The Senate of the Federal Republic of Nigeria
Current Presiding Officer
H.E. Sen. Godswill Akpabio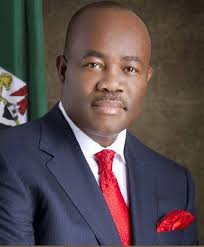 There are in the Senate of the Federal Republic of Nigeria from 2015 – 2018, a total of 108 members, 101 males and 7 females all directly elected by the electorates of their different constituencies for duration of 4 years. The chamber is convened by a proclamation issued by the President of the Federation. The constitution of the Federal Republic of Nigeria provides that after 4 years from the date of the first sitting, the Senate stands dissolved.
The Senate of the Federal Republic of Nigeria cannot be dissolved before the end of its session.
The two Houses have equal legislative competence. Every bill passed by either House has to be passed by the other House in identical form before it can be forwarded to the President for assent.

The Senate is expected to sit for a total of 181 days in a year.

PRINCIPAL OFFICERS
The Presiding Officer of the Senate of the Federal Republic of Nigeria is called "The President of the Senate". He is elected at the same time with others basically as a Senator. He is subsequently elected President by his colleagues by a simple majority of votes in the Chambers.

THE FUNCTIONS OF THE PRESIDING OFFICER INCLUDES
1. Chairing the plenary sessions of the Chamber and the committees of the whole Senate.
2. Ruling on Points of Order.
3. Final interpretation of the Chambers rules.
4. Appointment of Chairs and members of the committees in consultation with the committee of selection, which he chairs.
5. He is the Chairman of joint sessions of the two Chambers.
6. He represents the National Assembly at ceremonial occasions.

The constitution of Nigeria makes him number 3 on the National Order of Precedence.
Other Principal Officers of Senate are:
1. Deputy Senate President
2. Senate Leader
3. Senate Minority Leader
4. Deputy Senate Leader
5. Deputy Minority Leader
6. Senate Majority Whip
7. Senate Minority Whip
8. Deputy Majority Whip
9. Deputy Minority Whip

Brief Outline of their Functions are as follows:

1. The Deputy Senate President act with full powers in the absence of the President.
2. The Senate Leader leads debates on all Government bills and measures.
3. The Minority Leader seconds all formal motions by Senate Leader.
4. The Deputy Senate Leader acts in the absence of the Leader.
5. The Deputy Minority Leader acts in the absence of the Minority Leader.
6. The Majority Whip organizes his Party for major debates and ensures discipline in the Chamber.
7. The Minority Whip organizes his Parties for major debates and ensures discipline among his members.

COMMITTEE SYSTEM

The Senate of the Federal Republic of Nigeria from 2003 – 2015 has a total of 54 committees. The number of members in each committee ranges from 9 – 13.

The committees have the role of studying and researching on bills and motions referred to them and report their findings to the Chamber.

The committees are classified into Special Committees and Standing Committees.
The President of the Senate in consultation with the committee of selection appoints the Chairmen of the Committees.

The Committee Chair presides over the meetings of the Committee. He rules on points of order, interprets the rules, signs and presents committee reports to the Chamber.

POLITICAL PARTIES

There are three Political Parties represented in Senate of the 4th Republic (2003 - 2015). Their names are the Peoples Democratic Party (PDP), which has majority of members up to 70.4%.
The All Nigeria Peoples Party (ANPP), which is second with 25.0% and the Alliance for Democracy (AD) with 4.6%.

FUNCTIONS OF THE SENATE

The Senate has as an oversight functions the investigation of the implementation of the Annual Budgets by Executive Departments and the Supervision of Nigeria's Foreign Policies by passing into legality treaties entered into by the country. 

The Senate also approves Diplomatic and Ministerial Appointments, Judiciary Appointments and Removal of Judicial Officers at the Federal level. It also approves States and Local Governments creation and amends the constitution when necessary.

The Senate can discipline and control its members in the Chamber.

On immunity, no member of the Senate can be sued or arrested for anything he says on the floor of the Senate.

ADDRESS

The Senate
Federal Republic of Nigeria
National Assembly
Abuja
P.O. Box 141, Abuja, Nigeria

Telephone: 234-9-2340144
234-9-2340058
234-9-2340009
Fax: 234-9-2342159/7

https://nass.gov.ng/